Driving And Parking
It is best to not attempt to park at Whale Beach and Palm Beach as space is very limited. Swimmers should consider carpooling where possible.
Special Parking Areas Are Indicated On The Map.
BEACH-SIDE CARPARKS - There are usually full very early on the day of The Macquarie Big Swim. These parking areas are metered. However, Northern Beaches Council, in a change of policy for this and other community events, will actively enforce Beach Pay and Display fee for the duration of the event. NOTE: This applies to ALL parking areas in the Whale and Palm Beach parking areas.

NORTH AVALON - The soccer fields just past the Careel Head Road turn off.  Signs along Barrenjoey Road will direct cars to the soccer field parking area,  where marshals will assist you with parking. If the soccer field car park is full, parking is available along Barrenjoey Road.

FREE SHUTTLE BUS service from North Avalon to the Palm Beach ferry wharf then on to Palm Beach start and return to the carpark and Palm Beach ferry wharf from the finish at Whale Beach. Spectators can take shuttle buses from Palm Beach start to race finish.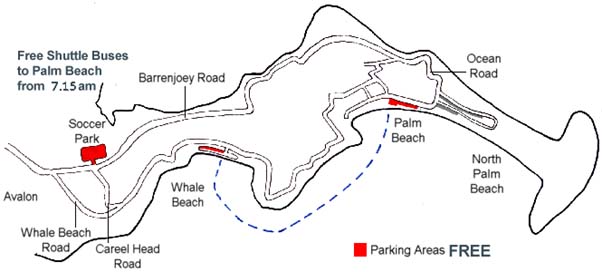 Cars parked illegally will be booked by Council Rangers.

Please note that Whale Beach Road and Florida Road are narrow streets with NO PARKING allowed on Saturdays, Sundays and on Public Holidays.

Don't block driveways.
Park with wheels on the roadway. Don't park with wheels up over the kerb or on the pedestrian way.

PLEASE LEAVE THAT BIG 4WD AT HOME! They're not suited to narrow Peninsula streets and parking areas.

IT MAKES GOOD SENSE TO CAR POOL WITH OTHER ENTRANTS.
Bus Information for Swimmers and Spectators
A fleet of chartered large State buses and smaller private buses will operate between 7:00am and 2:30pm to transport swimmers and spectators between the main car park at the Careel Bay Soccer Fields, Palm Beach and Whale Beach.
From 7:00am. Frequent buses from main car park at Careel Bay Soccer Fields to Palm Beach
From 7:50am. Palm Beach ferry wharf to Palm Beach
From approx. 9:30am. Palm Beach returning Little Big Swim swimmers and spectators to main car park at Careel Bay Soccer Fields and to Palm Beach ferry
From approx. 10:00am. Palm Beach spectators to Whale Beach for finish of Big Swim
From approx. 11:00am. Whale Beach swimmers and spectators to main car park at Careel Bay Soccer Fields.
Approx. 2:30pm. Last bus departs Whale Beach
Gold Coin Donation to RFS
Spectators using the free bus shuttles can make gold coin donations to the Regional Fire Service (RFS) who kindly assist in traffic management of the Big Swim.
Central Coast Ferry
From the Central Coast - Earlier ferry departure time due to The URM Little Big Swim at 8:30am
The Palm Beach Ferry Service will provide a service from Wagstaff 7:20am and Ettalong 7:30am to Palm Beach 7:50am on swim day. Buses will meet the ferry for swimmers and spectators at Palm Beach ferry wharf for transport to the swim start.

Following the swim, buses will be available to take swimmers and spectators to meet the 2pm return ferry.
Thank you, Fantasea Ferry Services, for your sponsorship and support of this community event.
For other service details, check the Palm Beach Ferry website.