Register at The Macquarie Big Swim and/or The Ray White Prestige Palm Beach Little Big Swim tent for your ankle band and swim cap. Registration opens at 7:30am for the Little Big Swim and 9am for the Big Swim.

Wearing a distinctive cap is compulsory for safety reasons; to ensure you're seen clearly in the water, as well as identifying your wave number.

Bluebottles - please feel free to bring a rash vest to provide some protection in case of bluebottles.

Flippers are only acceptable in the Fins n Skins event.

Free bag drop is available at Palm Beach, and anything dropped will be transported to the finish point at Whale Beach. This year you will be given a tag to attach to your bag that is the same colour as your cap, which will help you find it at the other end.
The start for Ray White Prestige Palm Beach Little Big Swim is 8:30am and The Macquarie Big Swim will start at 10am.

Waves are generally staggered by gender and age. More detail on waves will be available closer to the time.
Each entrant is fitted with a secure ankle band with a unique computer chip.

At the finish, entrants run over a special pad equipped with sensors which read the chip, instantly tabulating the finishing time and referencing the entrant's name.

Times recorded by the official electronic timing are the only acceptable times.

For those swimmers entering both The Macquarie Big Swim and The Ray White Prestige Palm Beach Little Big Swim, there are different timing anklets for each race. These should not be worn at the same time.
Times will be displayed on a large digital clock at the finish line at Whale Beach.

There will be an awards ceremony after the race.

Results and winners will be posted as soon as possible via the website.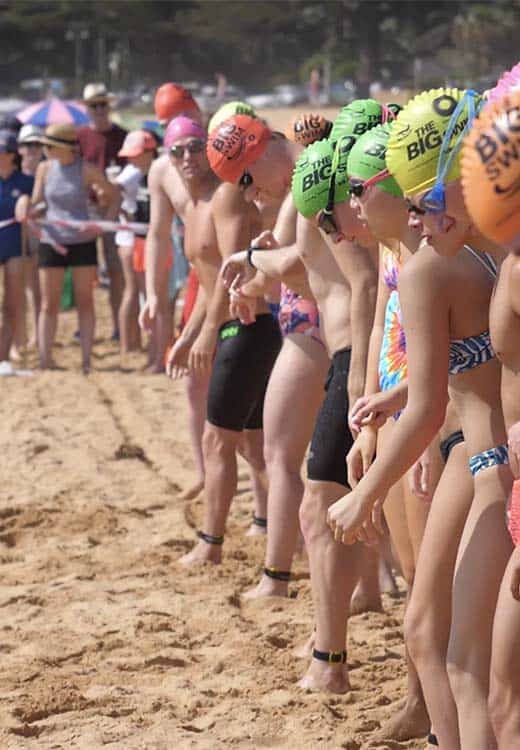 Whale Beach BBQ
Following the race, Whale Beach Surf Life Saving Club will be putting on a barbecue, serving sausage sandwiches, rissoles sandwiches and a selection of soft drinks, beers and wine.