Register at The Macquarie Big Swim and/or The URM Little Big Swim tent for your ankle band and swim cap.
Registration opens at 7:30am for both races.

Wearing a distinctive cap is compulsory for safety reasons; to ensure you're seen clearly in the water, as well as identifying your wave number.

Flippers are only acceptable in the Fins n Skins event.

Free bag drop is available at Palm Beach, and anything dropped will be transported to the finish point at Whale Beach. This year you will be given a tag to attach to your bag that is the same colour as your cap, which will help you find it at the other end.
The URM Little Big Swim will start at 8:30am. There will be four waves; Female & Male under 13, Female 14-29, Female 30+ and Male 14+.

The start for The Macquarie Big Swim is staggered. This improves safety for swimmers overall and allows swimmers with comparable speeds to swim together. It makes for great racing.

The waves are generally split by gender & age, with up to 200 swimmers in each.
Elite Swimmers
Wave 1 is known as the Elite Wave, and will be comprised of elite and other faster swimmers.
There are 100 places available in the Elite Wave, swimmers who rank in the top 10% for fastest time. The top 10% will be determined by reference to the Order of Precedence maintained by oceanswims.com. Swimmers who have not competed in ocean swim before could submit a 1 km pool time for consideration.
For a space in the 2021 Elite Wave, please send an email to thebigswim@whalebeachslsc.com with details and attend the timing tent on the morning of the swim for approval. Entry will be closed 30 minutes before race start time at 10am.
Fins n Skins
The final wave of the race is the Fins n Skins event. This is only wave where flippers and wetsuits are allowed. Should you wish to swim join this wave, make sure you select Fins n Skins on the entry form.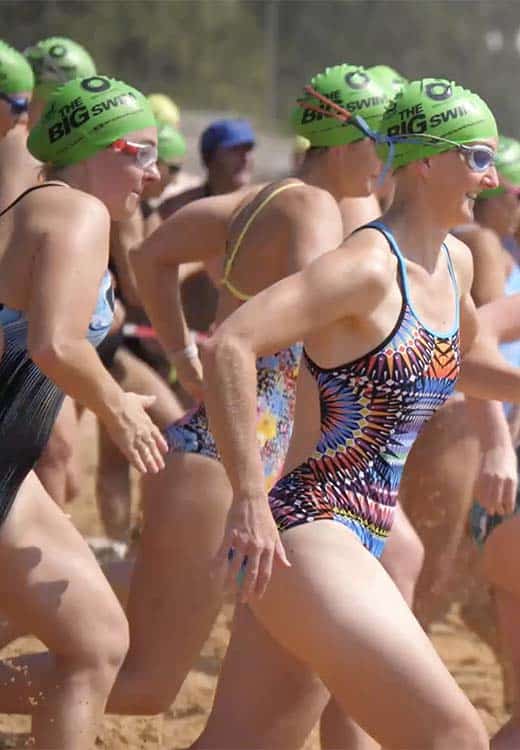 Each entrant is fitted with a secure ankle band with a unique computer chip.

At the finish, entrants run over a special pad equipped with sensors which read the chip, instantly tabulating the finishing time and referencing the entrant's name.

Times recorded by the official electronic timing are the only acceptable times.

For those swimmers entering both The Macquarie Big Swim and The URM Little Big Swim, there are different timing anklets for each race. These should not be worn at the same time.
Times will be displayed on a large digital clock at the finish line at Whale Beach.

Around 30-45 minutes after the last swimmer finishes the race, placings in the various categories can be announced and prizes awarded. The top male and female in the elite category will win a $500 cash prize. First place in all age groups will get a trophy, second and third place will be awarded a medal. If you think you might have placed for your category, make sure you stick around for the presentation.

There are 4 prizes up for grabs for The URM Little Big Swim competitors, one of which has been donated by Camera House.

A full categories placing list will be placed on display on the notice board at the back of whale beach.

Results will be posted as soon as possible via website.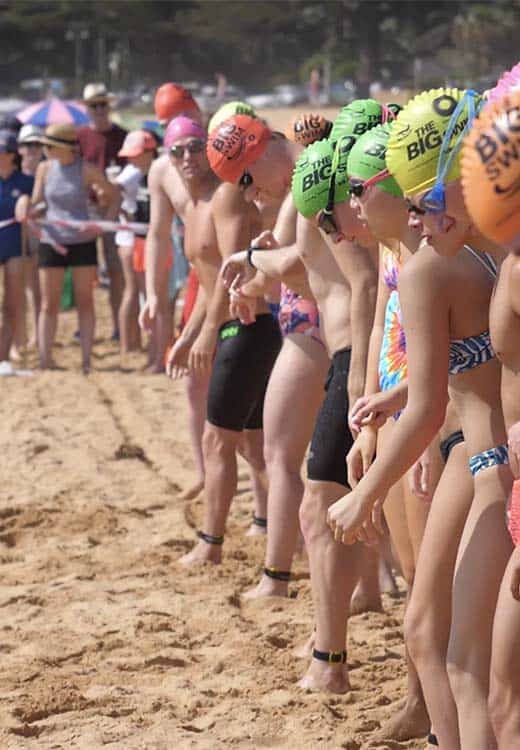 Whale Beach BBQ
Following the race, Whale Beach Surf Life Saving Club will be putting on a barbecue, serving sausage sandwiches, rissoles sandwiches and a selection of soft drinks, beers and wine.